Our annual convention
Delta Marriott Warwick 
Our convention is back! Dates to be confirmed imminently for our weekend-long event of learning and support for families affected by a rare growth condition. 
We're already so excited for this year's event and we'd love to see you there. This year's event will be returning to Delta Marriott Warwick.
New for 2023, our convention will be open to non-members. Members will have early-bird access to convention and will receive a member goody bag for the event. We hope by opening the event to non-members too we can reach as many people as possible, to support children, adults and families affected by growth conditions.
You will soon be able book and pay to attend the event here on our website. The full itinerary will be made available online as plans progress over the coming months. If you would like an offline version of the booking form please contact us at info@childgrowthfoundation.org.
For those arriving on the Friday evening we will have entertainment provided. We will have activities planned for children and young people throughout the Saturday alongside our sessions run by experts and specialists who will present, discuss and answer any questions on many topics, including updates on any latest research and treatment options.
There will also be plenty of time for networking and socialising with others, and we're so pleased that Tom Wyllie will be joining us again, entertaining us throughout the Saturday evening. New for this year we will also be holding optional sessions on the Sunday morning before you head home.
We have kept our convention attendee rates the same as 2022 and hope to see familiar faces and new families too joining as we all come together for our special CGF weekend.
Have your say
We are seeking feedback and input on convention to make it the best possible event for everyone attending. If you have or haven't attended before we'd really appreciate if you could spare a few minutes to complete our short convention survey at: https://bit.ly/cgfsurvey.
Due to COVID restrictions our 2020 Annual Convention was cancelled. We adapted and moved the event online. It was different, but still let us bring families together in much-needed support.
The glam-tastical theme for the weekend was festival, and the costumes were outrageous! Another wonderful weekend of learning and support.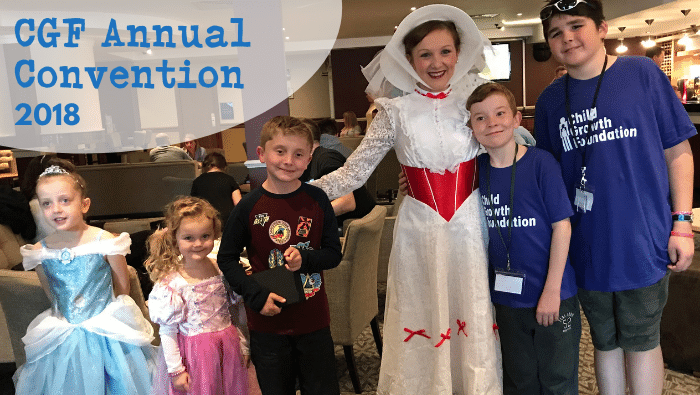 A write-up of our 2018 Annual Convention. A weekend event where families affected by rare growth conditions gather for learning and support.